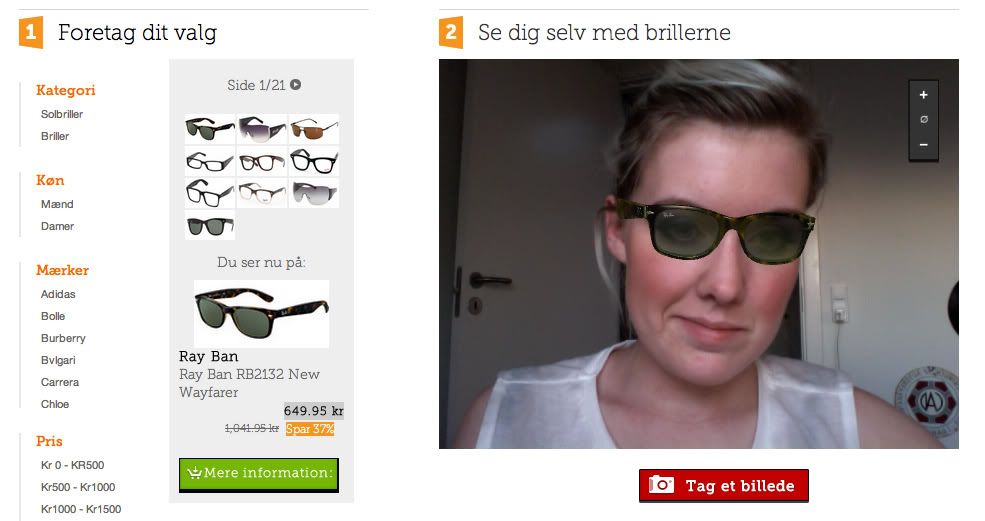 Efter at have forelsket mig i de føromtalte bordeaux solbriller fra Ray Ban hos online-shoppen SmartBuyGlasses, besluttede jeg mig for, at jeg ville prøve dem på. Jeg ville aldrig turde at bestille et par solbriller eller briller online uden at have prøvet dem først, da man jo ikke på forhånd ved om de passer til en.
Men hvordan skulle dette så kunne lade sig gøre hos en online-shop? Denne komplikation har SmartBuyGlasses selv svaret på. Shoppen har nemlig etableret et såkaldt 3D prøverum. Prøverummet giver en mulighed for at prøve både solbriller og brillestel på, for derefter at kunne vurdere, hvorvidt brillens farve, stil og form passer til ens ansigtsform. Prøverummet fungerer ved hjælp af webcam, således at brillerne du prøver følger hver en bevægelse du laver. På den vis har du ligeledes mulighed for at prøve brillerne på forskellige måder, eks. både med løst og opsat hår, og ikke mindst fra forskellige vinkler.
Efter at have prøvet Ray Bans Wayfarer i 3D prøverummet, må jeg nok indse, at det desværre ikke er en brilleform for mig. Mit ansigt komplimenteres bedst ved større og rundere solbriller, såsom parrene på de to nederste billeder. Det første par er fra Chloé, det andet fra Carrera.
Se en demonstration af, hvordan du bruger 3D prøverummet på YouTube her eller prøv det selv på SmartBuyGlasses.dk.
I decided to try on the Ray Ban Wayfarer in an online "fitting room", however I found out that the shape of the glasses does not fit me. I need to wear bigger and more round glasses. Try the online "fitting room" yourself at SmartBuyGlasses.dk,
Sponsored post. Own opinions.